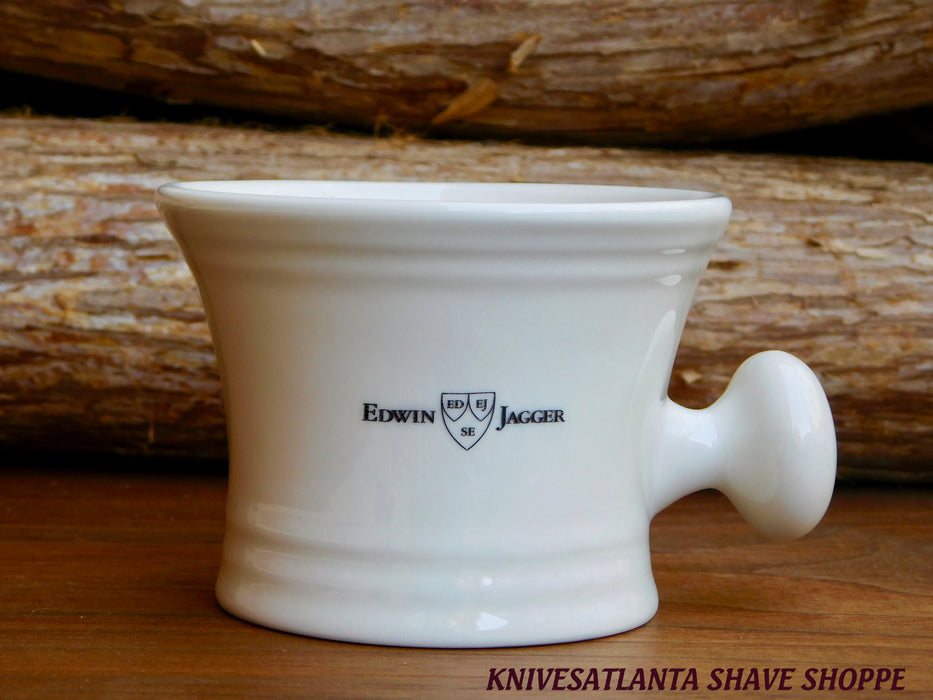 Edwin Jagger Ivory Porcelain Shaving Bowl With Handle
DETAILS
Edwin Jagger is Europe's foremost manufacturer of luxury handmade shaving equipment. Edwin Jagger products are crafted and hand assembled in Sheffield England, a city known for its rich industrial history. The Edwin Jagger Ivory Porcelain Shaving Bowl With Handle is a simple, classic shaving accessory, designed to neatly store shaving soaps in between shaves and allow for a space in which to lather up during shaving.
The product is made from a high-quality ivory colour porcelain, giving it a classic and smart appearance. The choice of material used allows for a secure place to store soap and will ensure products remain dry between shaves. The handle is a convenient addition that allows the user to grip and hold the product whilst lathering up if desired.
Due to the simplicity of the design, this product will look good alongside any other traditional shaving products and will complete the shaving set of any wet shaving enthusiast.
When looked after correctly, the bowl will maintain its quality appearance and functionality for years to come. This makes it a truly great value, low-cost shaving bowl that is designed to stand the test of time.
The bowl is designed to fit any fragrance from the Edwin Jagger range of soap refills, including aloe vera, sandalwood, and limes and pomegranate.
The top of the bowl has a diameter of approximately 93mm/3.8inches across the top and approximately 60mm/2.4inches at the base. The height is approximately 70mm. Any soaps you have that match these measurements should fit in this bowl comfortably.
Pair up with a quality shaving brush and soap to produce the best lather with this bowl.
The Edwin Jagger logo is marked on the side for authenticity, a finish that has come to be associated with pure class in the wet shaving industry.
FOR MORE KNIVES & CUTLERY * VISIT KNIVESATLANTA.COM