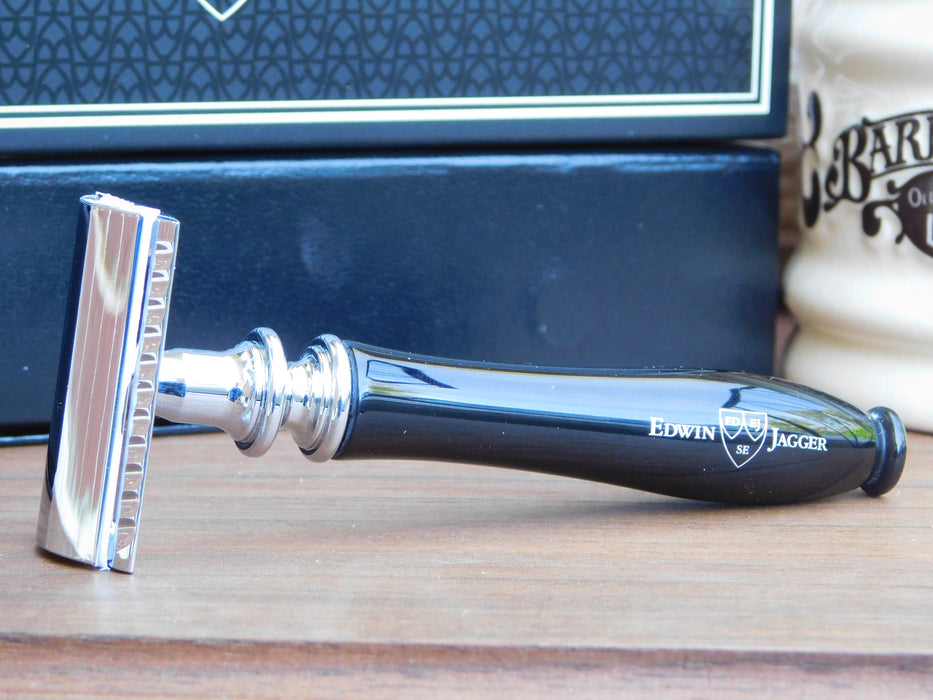 Edwin Jagger Chatsworth Imitation Ebony DE Safety Razor
DETAILS
Edwin Jagger is Europe's foremost manufacturer of luxury handmade shaving equipment. Edwin Jagger products are crafted and hand assembled in Sheffield England, a city known for its rich industrial history. The Edwin Jagger Chatsworth Imitation Ebony DE Safety Razor & Feather Blades is a high-quality closed comb double edge safety razor, part of the Edwin Jagger premium range which include a free pack of Feather Blades.
This double edge safety razor is fitted with the classic Edwin Jagger DE Head, which has been popular amongst the wet shaving community for many years. The closed comb head is expertly engineered and finished with a high-quality chrome plate. It has an excellent reputation for the expert level of shaving it achieves.
The classic Edwin Jagger closed comb razor head is praised for being an excellent choice for those trying traditional shaving for the first time, whilst remaining a firm favourite of those who are more experienced.
When used with any standard DE razor blade and quality shaving cream or soap, this razor will produce a close and accurate shave often compared to that of a straight razor.
The Edwin Jagger Chatsworth range is part of Edwin Jagger's premium collection, machined from solid brass, hold polished, and triple plated. It is finished with an imitation ebony polyester material. The design has a traditional style, with an elegant curved shape.
All double edge safety razors within the Edwin Jagger premium range include a pack of five free Feather Hi-Stainless DE Safety Razor Blades to get you started. Feather Blades are the preferred pairing recommended by Edwin Jagger as the sharpness of the blade paired with the head offers a comfortable, clean shave.
The blades can be recycled after use, making this product a popular choice for those looking for a waste free method of shaving.
All Edwin Jagger products are finished off with a thorough quality check and packed securely in attractive Edwin Jagger packaging, allowing for safe and secure delivery.
FOR MORE KNIVES & CUTLERY * VISIT KNIVESATLANTA.COM