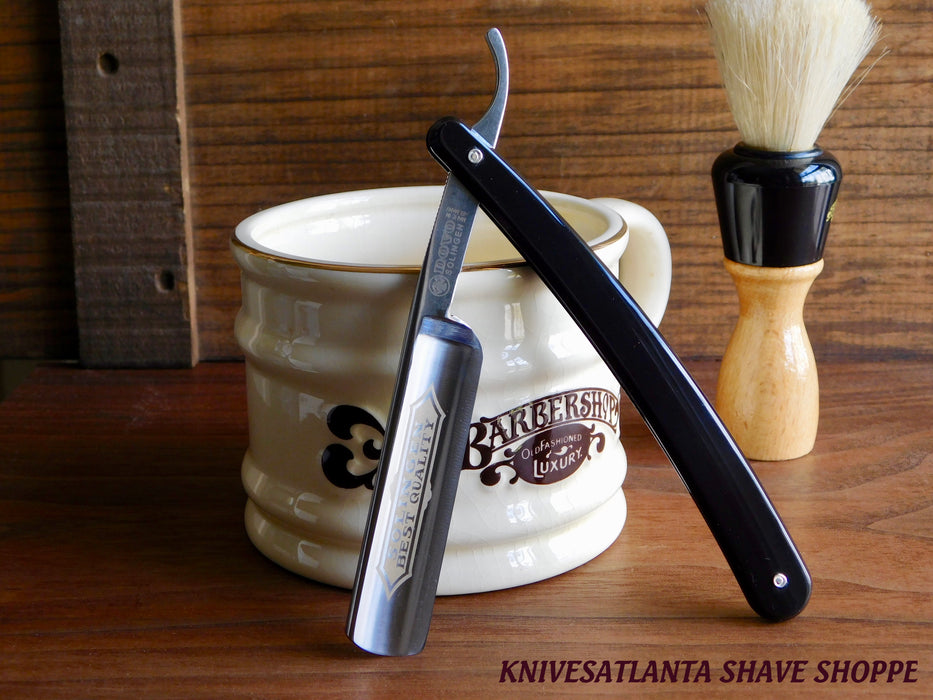 DOVO «Solingen - a name and a place that stand for quality, design and experience. Since 1906 we have been dealing with the development, design and production of high quality cutlery and shaving products every day. All over the world, our articles are valued and used, which often last a lifetime.
The DOVO 101 in 5/8 inches is an excellent razor for beginners and people who prefer a robust and no-frills knife. In terms of sharpness, thoroughness and handling, it is in no way inferior to its brothers. All surfaces of the razor are finely ground by hand in several stages. The top and bottom of the tang is corrugated, so you have a firm grip on it even with wet or frothy fingers.
Material -
Carbon steel 1.2210
Handle Material -
Plastic PMMA
Blade Description-
Round head, simple approach, tang led on two sides
MATERIAL
This razor is made of carbon steel with the material designation 1.2210, better known as silver steel. In order to achieve a hardness of around 61 HRC, the material is heated to over 1000 degrees and then immediately quenched with a special oil. The subsequent tempering at about 200 degrees gives the blade elasticity and toughness.
HANDLE MATERIAL
PMMA, also known as acrylic glass, is a thermoplastic. An elaborate polishing process gives the material its unmistakable shine and underlines the high-quality appearance of the DOVO razor. You don't have to take special care of the material, simply wipe off any soap residue and dirt with a damp cloth.
CUT
The semi-hollow cut combines the individual advantages of the fully hollow and coarse cut. On the one hand, the blade still has enough flexibility to adapt to your skin and achieve a very gentle shave, on the other hand, it can also cope with stubborn stubble or strong beard growth.
BLADE DESCRIPTION
The round head is the classic shape of a razor and will do most shaving situations. This type of blade has been very popular for centuries because the bulbous shape can be used very safely in the ears, nose and dimples.Even in the event of a fall, the round head protects you from injuries.
BLADE WIDTH
Razors in size 5/8 inches are real all-rounders and can withstand any task related to classic wet shaving with flying colors. The blade is relatively heavy and can therefore slide smoothly over your skin without great pressure. At the same time, it is still maneuverable enough to be able to handle even technically demanding passages around the nose, ears and chin in an agile manner.
FOR MORE KNIVES & CUTLERY * VISIT KNIVESATLANTA.COM