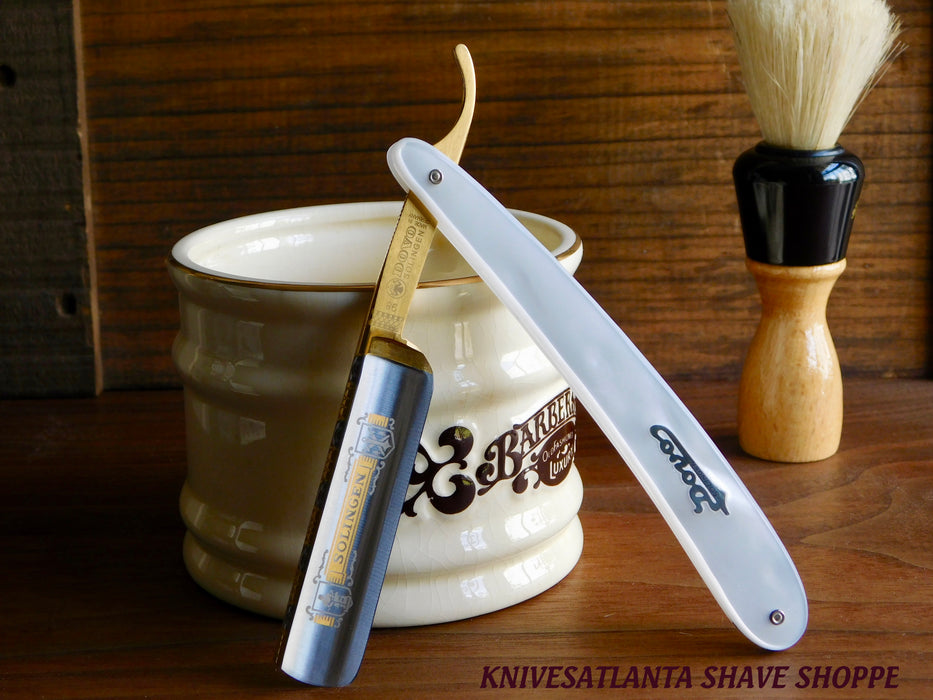 DOVO No. 98 has been convincing our customers for many decades. The magnificent ornaments on the blade and back in combination with the silk, mother-of-pearl shimmer of his grip scales give him majestic grace. The magazine proudly bears the DOVO inlay and, together with the fully hollow 5/8 inch blade, ensures you a high-quality shaving experience.
Material -
Carbon steel 1.2210, decorated with 24 carat gold
Handle Material -
Acrylic, mother-of-pearl imitation
Blade Description -
Round head, double shoulder, tang on two sides
Blade Width -
5/8 "
MATERIAL
This razor is made of carbon steel with the material designation 1.2210, better known as silver steel. In order to achieve a hardness of around 61 HRC, the material is heated to over 1000 degrees and then immediately quenched with a special oil. The subsequent tempering at about 200 degrees gives the blade elasticity and toughness. The ornaments are created by a coating with 24 carat gold.
HANDLE MATERIAL
Whether as furniture inlay or jewelry - mother-of-pearl has been used for the luxurious refinement of high-quality products for centuries. For ethical reasons, we work with an imitation mother-of-pearl made of acrylic glass without exception. Through selected manufacturing processes, we are able to imitate the iridescent play of colors of real mother-of-pearl and at the same time combine them with the long-lasting properties of acrylic.
CUT
In the case of hollow grinding, the razor is ground concave from the back to the cutting edge. This design combines great flexibility with high torsional rigidity in the longitudinal shape. The blade dynamics ensure a gentle shave accompanied by a very characteristic sound, which is triggered by the swing of the razor at the hair section.
BLADE DESCRIPTION
The round head is the classic shape of a razor and will do most shaving situations. This type of blade has been very popular for centuries because the bulbous shape can be used very safely in the ears, nose and dimples.Even in the event of a fall, the round head protects you from injuries.
BLADE WIDTH
Razors in size 5/8 inches are real all-rounders and can withstand any task related to classic wet shaving with flying colors. The blade is relatively heavy and can therefore slide smoothly over your skin without great pressure. At the same time, it is still maneuverable enough to be able to handle even technically demanding passages around the nose, ears and chin in an agile manner.
FOR MORE KNIVES & CUTLERY * VISIT KNIVESATLANTA.COM