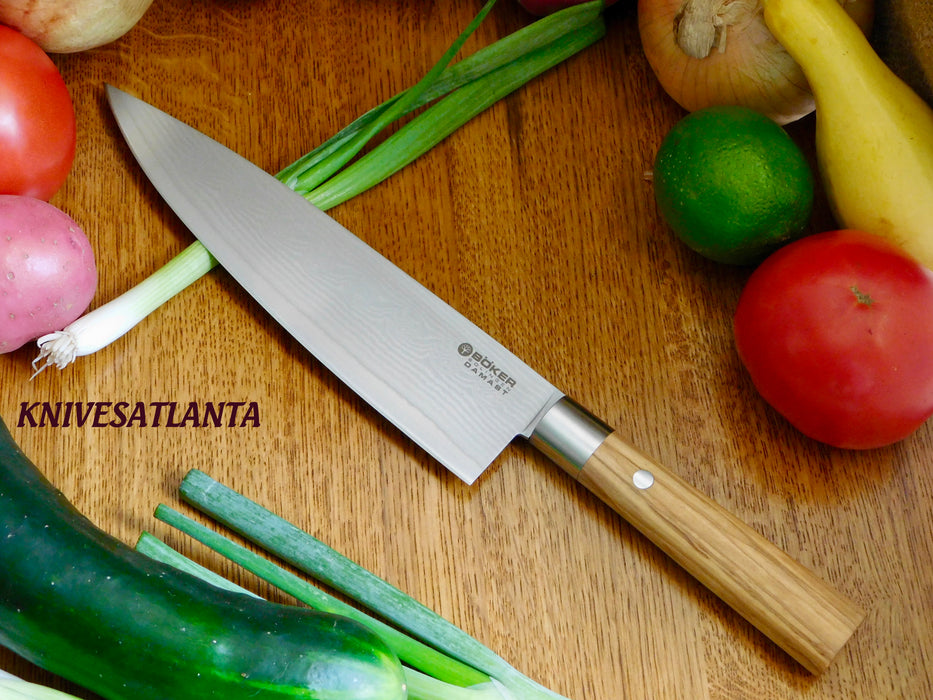 Boker Damascus Olive Chef's Knife Large
MSRP : 309.00  OUR PRICE : 247.20
The Boker Damascus Olive Kitchen Knife line combines traditionally Japanese handles made of local Olive Wood with razor-sharp blades made of stainless Damascus with 37 layers of steel, characterized by a beautiful grain. The extremely high-impact core of the Damascus blade consists of the high-performance VG-10 steel. The noticeable sharpness when cutting is breathtaking and makes cooking an experience. The Japanese design of the knife handle with the matted stainless steel clamps gives the line its special character.

Top chefs are not the only ones who swear by Japanese kitchen knives – they are also popular with many ambitious amateur chefs. The advantages of the knives with Japanese handles and traditional construction of the blade with push tang and stainless steel ferrule are patently obvious, because they can cut delicate foods without squashing or bruising. When cutting herbs, for example, the fine cut hardly releases their oils. So, the aromatics are not lost and you can even avoid tears when cutting onions. The sense of sharpness during cutting is breathtaking and makes cooking a true experience.

The secret of this unusual sharpness lies in the material and its processing. The blade consists of 37 layers of Damascus steel. The stainless premium blade steel VG-10used for the center layer is made in Japan and offers hardness, resilience and a homogeneous crystalline structure. In direct cooking performance comparison with a product made by an established Solingen kitchen knife manufacturer in accordance with DIN EN ISO 8442-5, the kitchen knife line Boker Damascus Olive is literally a cut above. The representative DIN test showed that the cutting performance of our knives was 68% better than that of the competitor's product. The knives also score points with their higher level of initial sharpness. Thus, constant sharpening is a thing of the past.

The Chef's Knife is one of the most important knives in the kitchen and belongs to the basic equipment. It has a slightly wider and longer blade than the Utility Knife. The slim tip is also suitable for cutting onions or small vegetables. Thanks to its length it can also be used as a meat knife. It is also easy to process large vegetables.
Type: 

Kitchen Knife

Overall Length: 

13,31 in

Blade Length: 

8,35 in

Blade Thickness: 

0,12 in

Weight: 

4,59 oz

Blade Material: 

Damascus

Handle Material: 

Olive Wood

Lock Type: 

Fixed

Color: 

Brown

Item Number: 

130441DAM