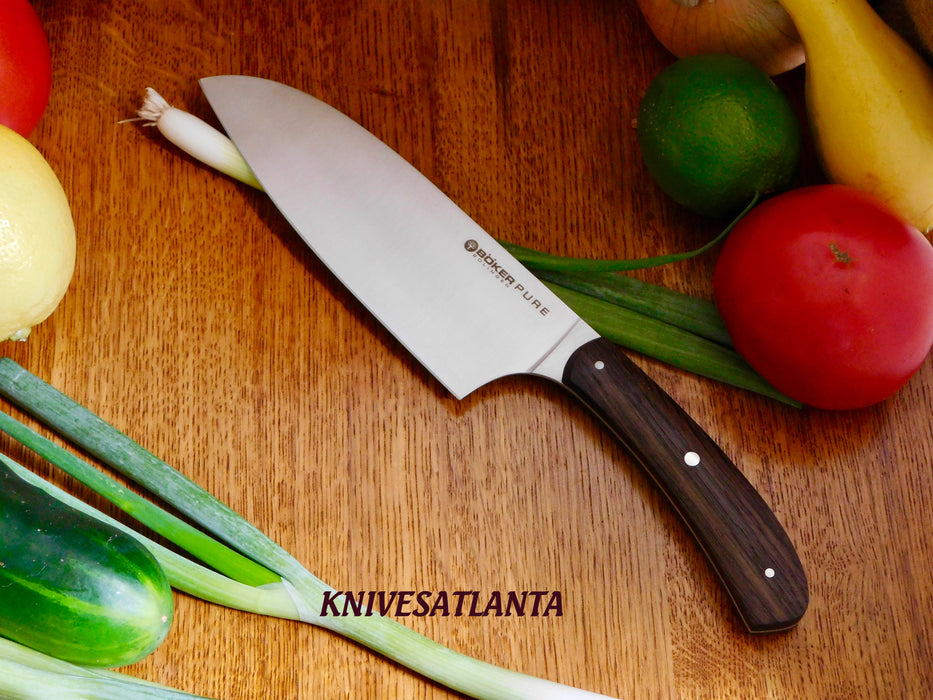 MSRP : 225.00  OUR PRICE : 180.00
Danish design emerged as a style in the middle of the 20th century, strongly influenced by the ideas of the German Bauhaus. This design movement developed its own no-nonsense look characterized by simple formalism, minimalism, clarity and functionality, as well as by the use of cutting-edge industrial technology in the realization of this design vocabulary.

This is the tradition of Danish designer and custom knifemaker Jens Ansø, who designed the kitchen knife series Boker Pure following these exact design principles. The knives have unique, classically simple lines and offer excellent balance, grit and functionality.

This puristic design is highlighted with the use of regional oak, a regional oak wood, for the handles. The pleasing pattern of the elaborately finished oak wood is only interrupted by three understated stainless steel rivets, which are applied with great care in a completely manual process.

In order to match the aesthetic quality of the series with its technical properties, we are using the powder metallurgical steel CPM-154 made by the American manufacturer Crucible Industries.

This steel is made by melting the already excellent base steel 154-CM in order to add more carbides. The steel is then atomized in a vacuum and quenched with a cold air jet. The resulting steel powder is pressed and sintered below melting temperature. This process makes it possible to give the steel a much higher carbide concentration than regular blade steel. The carbides given the steel hardness and edge retention. The superior edge retention of the 440C is far surpassed by the powder metallurgical steel CPM-154, which is a guarantee of for a sharp knife that lasts a very long time.

The Santoku is a Knife that is also becoming more and more popular in Europe. It is originally a Japanese blade form for a Utility Knife. Translated, his name means "The Three Virtues", it is equally suitable for meat, fish and vegetables. Thanks to the wide blade, the Santoku is particularly easy to handle.
Type: 

Kitchen Knife

Overall Length: 

11,30 in

Blade Length: 

6,61 in

Blade Thickness: 

0,09 in

Weight: 

5,96 oz

Designer: 

Jens Ansø

Blade Material: 

CPM-154

Handle Material: 

Oak Wood

Lock Type: 

Fixed

Color: 

Brown

Item Number: 

132477